By: Karolin Troubetzkoy
A Labor of Love and Devotion
From time to time, travel advisors and new acquaintances ask me to explain the history of Jade Mountain to them.
Jade Mountain is the brainchild of my husband Nick who is the conceptualist, architect and designer of Jade Mountain. Together with a fine team of engineers and architectural associates, he also personally oversaw the entire building process.
I always say that Jade Mountain is Nick's unique declaration of love for Saint Lucia and a tribute to her stunning beauty, and as you may have noticed, a bold and rather unique declaration it is!
The building of Jade Mountain took over 3 years and saw over 500 Saint Lucians employed during this construction phase. As a matter of fact, Nick considers this one of the greatest highlights of constructing Jade Mountain: to showcase the amazing talent and craftsmanship of a 99% local workforce. Given the now legendary success of the resort, it has become a badge of honor on any application to have been involved in the building of Jade Mountain. Watershapes magazine dedicated an entire issue to Jade Mountain, which you can read here.
Nick has been an avid collector of antique carved jade mountains for over 35 years. He already had an impressive collection of jade mountains when he first came to St. Lucia in the 70's and some of them resemble our amazing landscape around Jade Mountain, including of course our landmark mountains, the Pitons.
The strong affinity he felt when first laying sight on the Pitons was no doubt partly due to his love for his carved jade mountains. What was meant to be a brief stint in paradise, turned into a lifelong passion for the island and devotion to her people.
Nick's "stint in paradise" and love affair with Saint Lucia began in the 70's when he came to the island as an architect and eventually became involved in Jade Mountain's sister property Anse Chastanet and after a few years, became its sole owner. The story of Anse Chastanet deserves its own blog post. A tremendously successful resort in its own right, Anse Chastanet grew from a small 14 room to a 49 room resort, surrounded by a beautiful 600 acre estate with two beaches. Built in harmony with nature and featuring individually designed rooms and suites, Nick's focus from the onset was on building, crafting and buying as much as possible locally and keeping the economic benefits on island. The rooms and public areas are colorful art-filled spaces deep-rooted in the culture of Saint Lucia as are the furnishings and even uniforms.
When we decided to extend Anse Chastanet, many of us thought that Nick simply would add additional rooms. But as these "new rooms" took shape we soon realized that what was being created in front of us, had little to do with the existing resort property and deserved its own name and a standalone experience. The concept of a resort within a resort was born.
When it came to naming the new property, Jade Mountain seemed to be the most appropriate choice because it appeared to me that Nick was finally carving his own jade mountain, made from stone and perhaps just a little bigger than some of the jade mountains in his collection.
Jade Mountain existed in Nick's mind for a long time before it was built. From the outset, he was determined to create a unique living experience that would not only take full advantage of the unforgettable views of St. Lucia's Piton mountains but to essentially allow the onlooker to float into space and become one with them.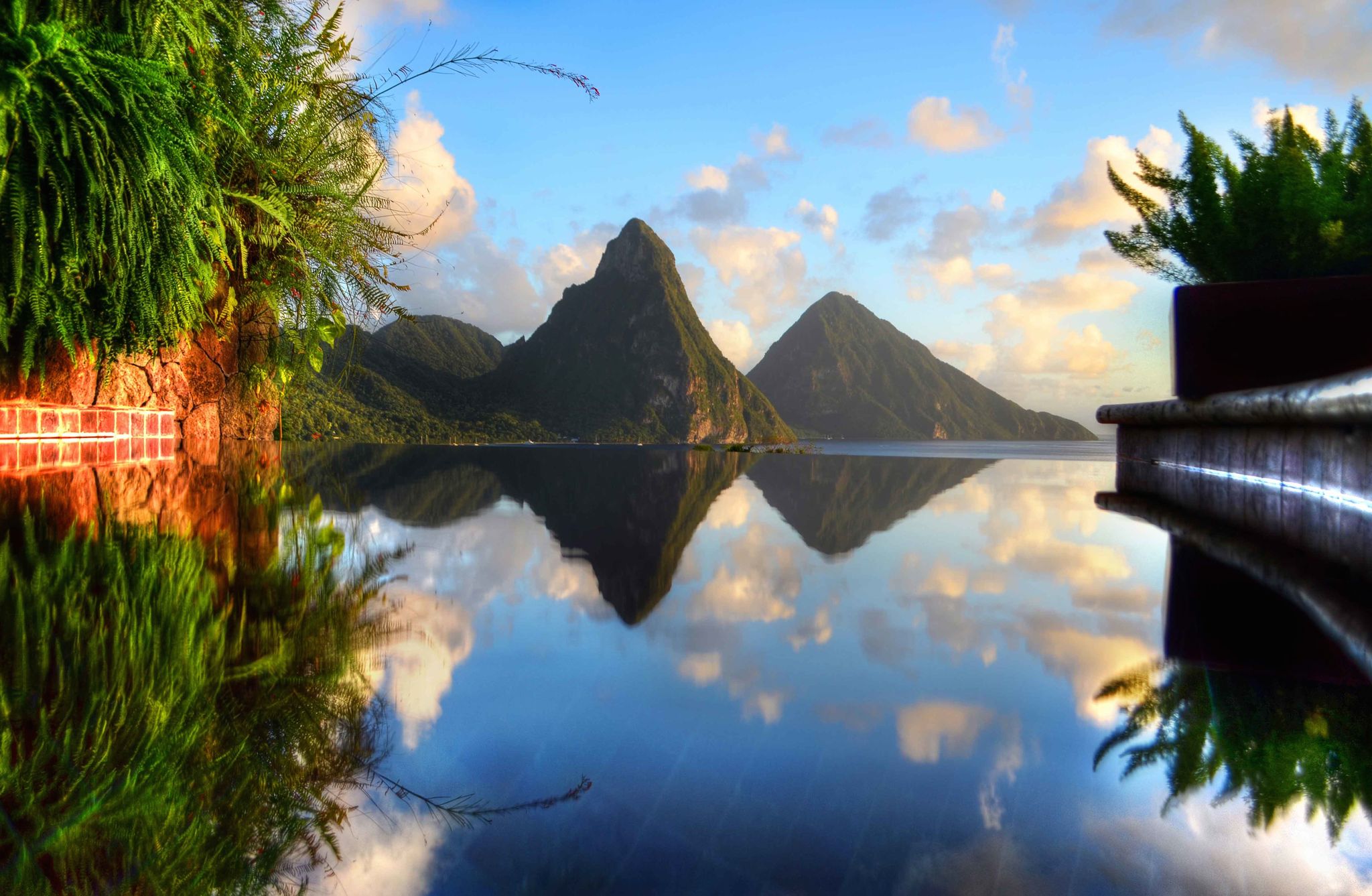 When calling the pools infinity pools we are as much referring to the infinite views as to the infinity pool edges. As a result, the bridges leading to your Jade Mountain sanctuary have become the "bridges to infinity".
Jade is known in China as the "stone of heaven". At Jade Mountain, our columns reaching out to heaven became an important part of the design. Our "columns to heaven" are topped with some amazing glass designs created by David Knox of Lightstreams who also created the handmade glass tiles for us.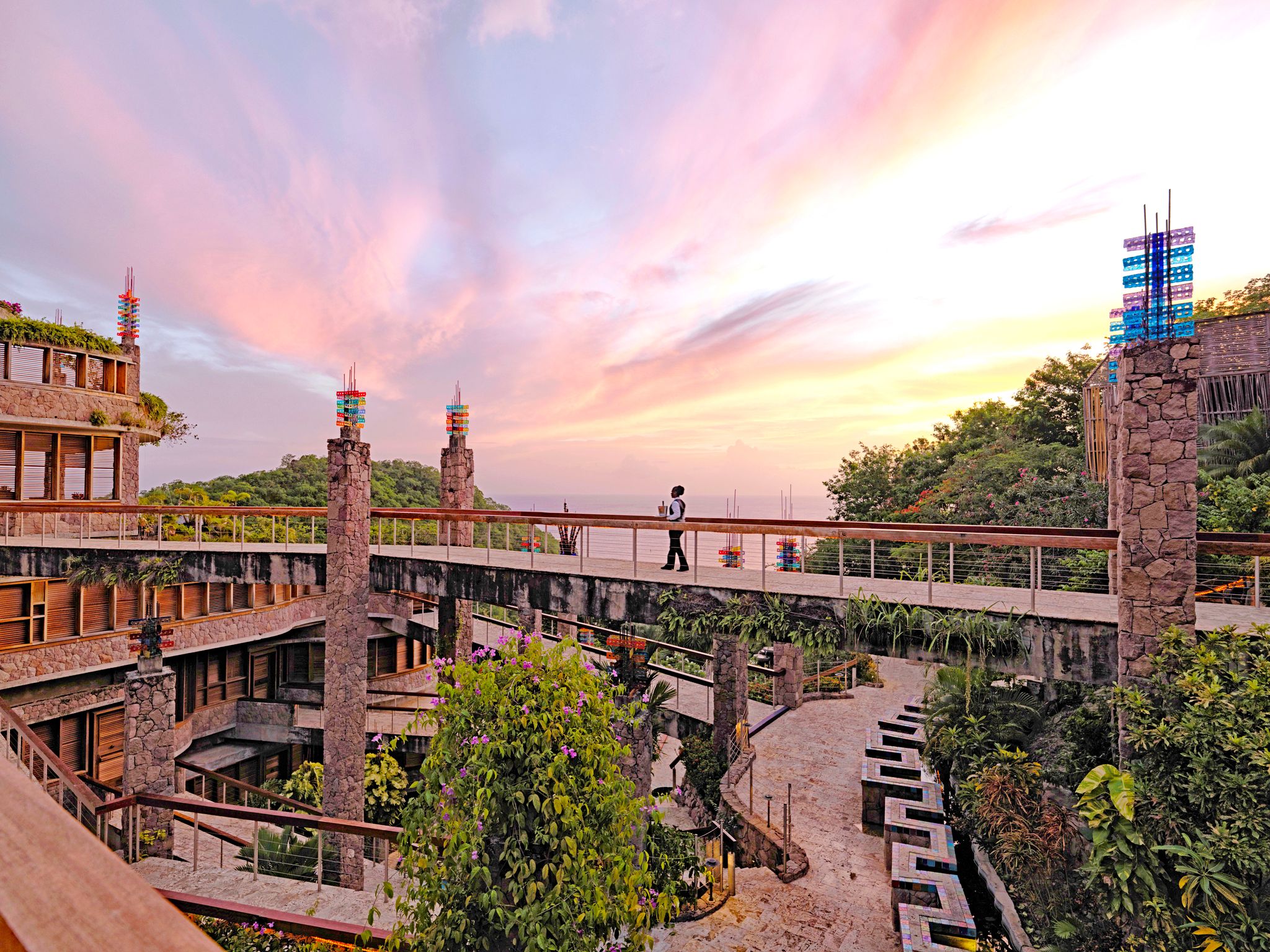 Jade Mountain as a whole is as much a work of art as it is a hotel operation and our hotel management team has the challenging task to ensure that in addition to the fabulous view and amazing accommodation guests will be receiving the high standard of service they so rightfully expect.
In the creation of his Jade Mountain, Nick took a particular interest in the recycled glass pool tiles which were designed in a symbiotic collaboration with David Knox of Lightstreams, an equally unconventionally thinking tile manufacturer, who – appreciating Nick's design approach – created 24 stunning iridescent reflective pool tiles to match Nick's revolutionary creations with some of his own. Each suite has different color pool tiles… from ruby red to amber to plum and to amazing shades of green and blue. The mold for these tiles has been destroyed. This was part of the agreement so that the Jade Mountain tiles could in fact remain a unique, one of a kind design feature.
Nick personally oversaw every aspect of the project, no doubt causing some of his associates to pull out their hair in the process. He was determined to not only create a unique experience, but to give each suite a completely different personality of its own. Not only do the suites and pools all differ in shape and layout, the furniture, wash basins and even the toilets hardly repeat themselves.
To create the unique individualistic effect intended for each suite, which all feature 15 ft high ceilings, additional furniture pieces were brought in from different well-known international  designers to supplement the locally made furnishings. By using a vast diversity of pieces from all of these fine furniture manufacturers, Nick was able to individualize each suite with an eclectic selection of furnishings. In addition, he collaborated with European bathrooms manufacturers to procure dramatic faucets, porcelain sinks and even toilets which all differ in each room.
The living areas of the rooms are finished with more than 20 different species of tropical hardwood flooring and trims harvested in an environmentally correct way. Jade Mountain's technicians actually visited the Rain Forest of Guyana and personally chose which trees to be used. A multitude of hardwoods has been used including Purpleheart, Greenheart, Locust, Kabukali, Snakewood, Bloodwood, Etikburabali, Futukbali, Taurino, Mora and Cabbage Wood.
The interior walls are finished in a crushed blush toned coral plaster quarried in Barbados. The exterior is in massive rough concrete and imbued with locally quarried stone, with all the window openings framed with massive 3 inch x 18 inch tropical wood mullions and muntins which are in-filled with movable jalousie louvres. The flooring exposed to the weather is finished in quarried coral tile from neighboring islands.
As each suite began to take shape, we realized that the term "suite" was far too conventional for our Jade Mountain accommodation. A suite – in the world of hospitality – also usually refers to a technical separation of bedroom and living-room which is not the case at Jade Mountain where we celebrate large open spaces.  One commentary was made over and over by anyone who visited the property in the pre-opening phase: "Why ever leave this heavenly place, we don't want to come out again". In trying to capture this sentiment, we came across the term "sanctuary", a term that at that point was not at all used in the hospitality industry and we thought was perfect to describe not only the physical space but also the psychology of the space.
As with Anse Chastanet, it was Nick's determination to keep as much economic benefit as possible in the region. The entire project was hand built with workmen from the local community of Soufriere. Nick has great respect for the woodworkers and masons of St. Lucia. The quality of the massive hand set stonework and wooden finishes speak for themselves.
As a result of our commitment and upon opening in 2007, we were awarded the highly coveted Counterpart International Emerald Award "for high-end resorts combining a commitment to luxury and to the use of tourism to improve the destination, its people and the environment." Counterpart president Lelei LeLaulu said that Jade Mountain had vaulted to the top of the world's most exclusive properties for its use of recycled material, water, and its dedication to conserving the environment, going so far as to send resort managers to the rainforests of Guyana to select the trees for use. He also gave top marks to "the resort's treatment of staff and a very low turnover". On top of all this, said LeLaulu, Jade Mountain was "a design of extraordinary vision and boldness."

Over the past years, Jade Mountain has been the recipient of numerous awards and has graced many a magazine cover.  The resort is one of only 2 LEED Gold certified properties in the Caribbean and also, Jade Mountain was the first Caribbean hotel to be recognized as one of the World's Top 3 Hotels for Best Service by readers of Travel + Leisure magazine.
Let me finish with a list of some of my favorite reviews:
Accusations of madness notwithstanding, Troubetzkoy has succeeded in building the resort on its own terms and after his own vision. " I had the luxury of being able to deliberate, but it made it difficult to plan ahead", he says. "Jade Mountain has a sense of being a work of art or sculpture. It metamorphosed until it took the shape it now has".
– Sheila Gibson Stoodley, Robb Report, Twin Peaks Rising
Everything in my room was built with that vista in mind, including the open, elevated bathroom. There are also exquisite handmade furnishings, attentive staffers, a canopy bed swaddled in imported linen etc,etc. These touches are of course completely extraneous; all my girlfriend and I did from the minute we set down our luggage ( and picked our jaws up off the floor) was skinny-dip, drink champagne, and stare out at the inviting Pitons, discussing which one to climb. If, that is, we ever managed to make it out of the room.
– Josh Dean, Men's Journal, Best of Everything, Best view from Bed
The bellman was about to call a doctor. Doubled over with laughter and glee, I'm sure I looked ill. That's the kind of response Jade Mountain's rooms elicit. Some people have spontaneously leapt up and down, while other have burst into tears. Talk about a room with a view.
– Kerri Allen, Gayot.com
While Jade Mountain is often described in the language of art, perhaps the most stunning feature is its relationship with nature's own remarkable sculpture, the awe- inspiring Pitons. Troubetzkoy determined that each room interact with the landmark site, so that the fourth wall, by its absence, frames one of the most spectacular scenes in the Caribbean…… Troubetzkoy said of the sanctuaries " I wanted to create environments that enable guests to forget about the furniture or the fact that they are in a hotel room- in essence, to forget about everything but experiencing the psychology of the space on an intuitive level."
– Kathleen Atkinson, Maco Caribbean Living magazine
Four sultry days and nights had passed and the couple never even stepped one toe out of their room. At any other hotel, this might be considered a case for Sherlock Holmes, but not so much as an eyebrow was raised at the Jade Mountain Resort in the Caribbean isle of St Lucia. Delectable meals were sent to their door for breakfast, lunch and dinner while masseuses dressed in crisp whites would float in like wisps of clouds from time to time, perform their magic, and then leave again without so much as a whisper.
– Julie Clark, Points North magazine
Some links for further enjoyment:
To make a reservation, visit Jade Mountain's website or call + 1 -758-459-4000 or + 1-800-223-1108